Helping, Healing, and Creating Community
Starting in your first semester, the Nursing Learning Community serves as a support network for undergraduate Nursing majors. It offers an increased level of contact with faculty, staff, peer mentors, and professional organizations. The community provides members with academic course support, a close social network, and information about the Nursing program and profession.
What is a Learning Community?
UConn's Living and Learning Communities provide cohorts of students with opportunities to investigate areas of interest, either based on their major or an interdisciplinary topic, through guided courses and co-curricular activities. Living and Learning Communities develop knowledgeable, responsible, engaged citizens in a culture of inquiry within a learner-centered university. While assisting students with their transition to academic life, they offer a small college feel and a sense of place on a large campus; they promote meaningful and sustained interactions with faculty, staff, and student leaders; and they provide an effective structure for curricular coherence, deeper learning, student success, persistence, and engagement. More than 40% of the incoming class participates in a learning community, as well as hundreds of students beyond the first year.
Who can apply?
Nursing House is open to first and second year students who have been admitted into the School of Nursing. Learn more about applying to the Nursing House.
Are there any academic requirements?
Where is Nursing House located?
What kind of events does Nursing House host for students?
In addition to receiving academic support and mentorship, Nursing House students plan social events throughout the year to help students feel like a family. Previous in-person events have included group movie nights and holiday parties. Virtually, the LC has held numerous game nights with games such as Pictionary and Kahoot. The most popular event is door decorating, when students are given a theme to decorate their door around and the winner receives a prize.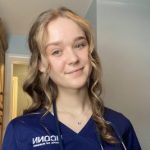 "I am extremely grateful for the time I spent as a part of the Nursing House Learning Community my first two years at UConn. It was more than just a floor I lived on, but a family and a crucial part of my success at the University. The LC helped me become the type of student that believes in myself and my abilities, all while making my best friends."
— Aliza Kennelly '23 (NURS)
"The Learning Community has impacted my UConn experience and my life in a positive way. I am a social person, but college was a huge wall; it turned me back into my shy self. Being in the LC made me put myself out there and make friendships and made me a better person. Joining an LC breaks that barrier that you have in yourself that is holding you back from doing things. Yes, it will take your own willpower to break it, but once you break it, it builds character and shapes your future."
— Cassius Arnold Jr. '23 (NURS)